Whitwell Garage has received a top national award after being voted the best Ford dealership for customer service in the country.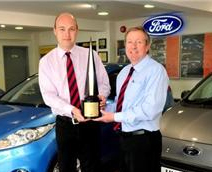 The prestigious award was handed over by Ingvar Sviggum, vice-president marketing sales and service, Ford of Europe, and Nigel Sharp, managing director Ford of Britain, after it was rated one of Ford's finest UK dealerships by its customers.

Extensive research is continuously carried out by Ford to assess exactly how customers feel about the quality of attention they receive from their dealer — whether buying a new car or having their vehicle serviced. For the winning dealerships, this programme confirms they not only meet but exceed their customers' expectations.

Ford dealer principal, Adrian Day, said: "We are delighted and proud to receive this award. It is the ultimate test of the service we provide because it is judged by our customers. It is a real tribute to the excellence and dedication of all our staff and a fitting recognition of their commitment to customer satisfaction."

Mr Sviggum said: "This award recognises the commitment and outstanding achievement of Whitwell Garage. Your focus and ability to deliver excellence in customer satisfaction, vehicle sales and service helps to mark both your dealership and Ford out as market leader."
Picture courtesy of the Isle of Wight County Press www.iwcp.co.uk
---
Ford's Rapid Fit programme has proved it is the best by winning the Manufacturers' Fast Fit of the Year award for the past five years running.

Whitwell Garage is the only Rapid Fit centre on the island and has recently been awarded the accolade of Fast Fit of the Year, an award open to the 260 odd Rapid Fit centres in the U.K